Support
The Hirshberg Foundation For Pancreatic Cancer Research
The Hirshberg Foundation was founded in memory of Ronald S. Hirshberg. The Foundation funds medical symposia, seed grants for new research projects, a patient information website and provides financial assistance to patients with pancreatic cancer.
National Cancer Institute (NCI)
The National Cancer Institute is an Institute within the National Institutes of Health, which is an agency of the US government. NCI provides information for patients regarding treatments, clinical trials, and prevention of pancreatic cancer.
Pancreatic Cancer Action Network (PanCAN)
The Pancreatic Cancer Action Network is a nationwide network of people dedicated to working together to advance research, support patients and create hope for those affected by pancreatic cancer. The organization raises money for direct private funding of research—and advocates for more aggressive federal research funding of medical breakthroughs in prevention, diagnosis and treatment of pancreatic cancer.
American Cancer Society
The organization is huge fundraising engine that funds and conducts research, provides education on management and prevention, and provides a variety of support for cancer patients and survivors.
Literature
Pancreas
Pancreas is the official journal of the American Pancreatic Association and several other professional organizations. It is a multidisciplinary medical journal where physicians and researchers publish their findings.
Pancreatic Disease Information
Pancreas.org is run by APA Member & former president, David Whitcomb, and provides information and help regarding pancreatic diseases.
Pancreatology Journal
'Pancreatology' is the official journal of the International Association of Pancreatology (IAP), the European Pancreatic Club (EPC) as well as a number of other national societies and study groups. Dedicated to the understanding and treatment of pancreatic disease, this multidisciplinary periodical is concerned with the endocrine and exocrine pancreas in health and disease, including endocrine-exocrine interactions.
Interventions for Pancreatitis: New Approaches, Knowledge Gaps, and Research Opportunities
This one-day workshop aims to inform investigators of new developments in the field and identify the knowledge gaps and research opportunities that might inform possible future funding initiatives for NIDDK.  The workshop is free but registration is required.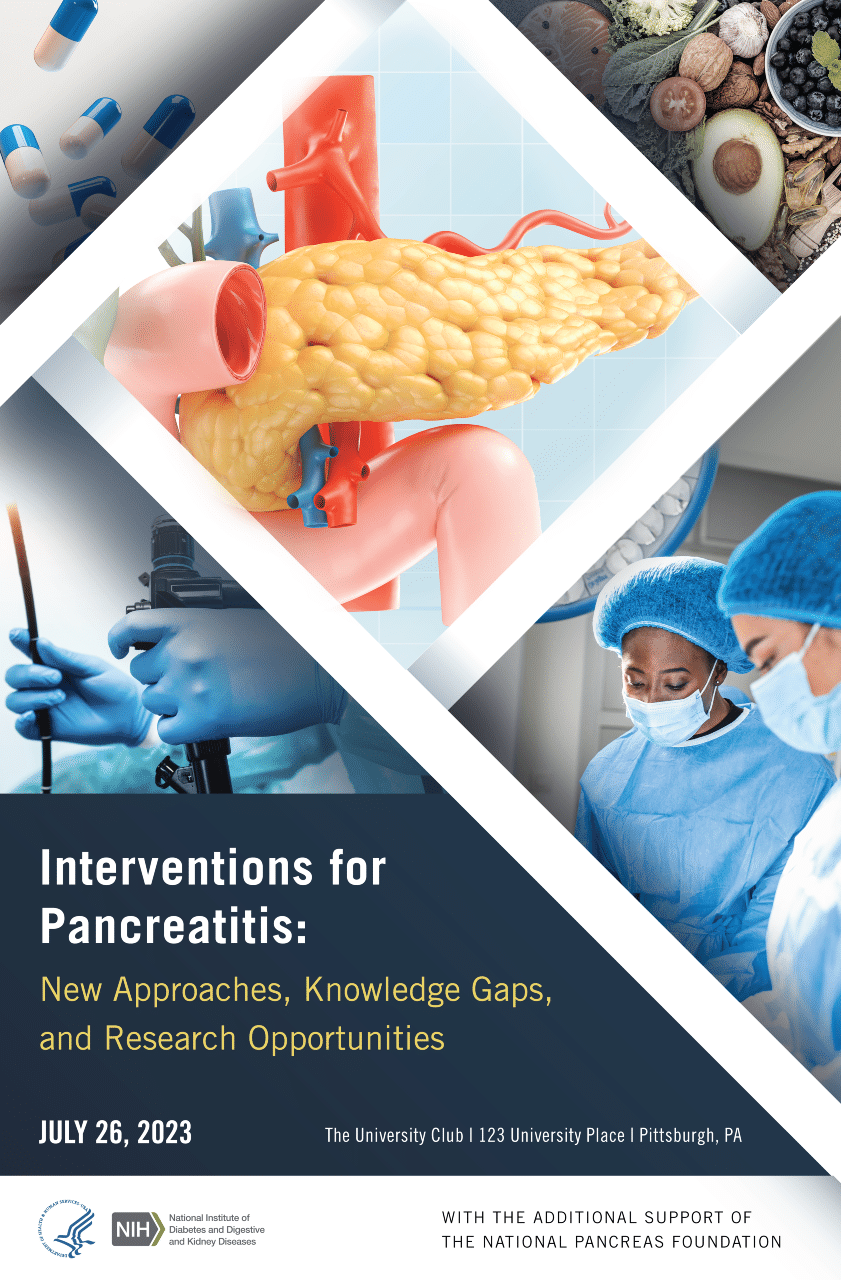 European Pancreas Club
European Pancreas Club (EPC) is a membership organization for pancreatologists in Europe. They bring together basic scientists and clinicians to promote friendship and communication of research between them.
International Association of Pancreatology
The IAP is a unique international organization devoted to basic and clinical understanding of pancreatic functions and diseases. It is an assembly of basic scientists and clinical investigators from 32 countries dedicated to explore pancreatic biology in order to improve treatment outcomes in a variety of pancreatic disorders.
National Pancreas Foundation
The NPF raises and manages a charitable foundation from which grants are made directly to researchers seeking to resolve the challenging medical problems of pancreatic diseases. A support network is being developed for individuals suffering the isolating and debilitating conditions associated with pancreatic disease.
Pancreas Club
The Pancreas Club is a membership organization open to physicians with an interest in the exocrine pancreas. Their goal is to promote the interchange of ideas between pancreatologists throughout the world and to maintain an informal "club" atmosphere.
Clinical Trials
ClinicalTrials.gov is a registry of federally and privately supported clinical trials conducted in the United States and around the world. ClinicalTrials.gov gives you information about a trial's purpose, who may participate, locations, and phone numbers for more details.
Kenner Family Research Fund
Kenner Family Research Fund (a fund of JCF, a registered 501(c)3 organization) was formed by the family and friends of Peter Kenner, who died shortly after his diagnosis of neuroendocrine pancreatic cancer. The fund is committed to investing in initiatives to establish an early detection protocol for pancreatic cancer.
Lustgarten Foundation
The Lustgarten Foundation is a non-profit organization named for Marc Lustgarten, Vice Chairman of Cablevision Systems, who was diagnosed with pancreatic cancer. The Lustgarten Foundation funds pancreatic cancer research and provides information services for patients with pancreatic cancer & their families.