American Pancreatic Association Foundation
The APA Foundation mission is to cure pancreatic disease through research, collaboration and advocacy.
The APA Foundation is a 501(c)3 organization accepting tax deductible donations to support efforts of the APA in fostering clinical and basic science research needed to cure diseases of the pancreas. The APAF supports awards for young investigators and travel grants promoting research opportunities.
The APA Foundation mission is to cure pancreatic diseases through research, collaboration and advocacy.
The APAF is proud to offer the Young Investigator in Pancreatology Grant on an annual basis. The purpose of the grant is to attract and retain the next generation of scientists in the field of basic and clinical pancreatology.  CLICK HERE for additional information.
APA Foundation Board
O. Joe Hines MD | Chair
Aliye Uc MD | APA President
Ashok Saluja PhD | Secretary & Treasurer
Dana Andersen MD
Darwin Conwell MD
Chris Forsmark MD
William Go MD, PhD
Fred Gorelick MD
O. Joe Hines MD
Agi Hirshberg
Barbara Kenner PhD
Steve Pandol MD
Edward Purich PhD
Mail checks to:
APA Foundation
3904 W. 126th Street
Leawood, KS 66209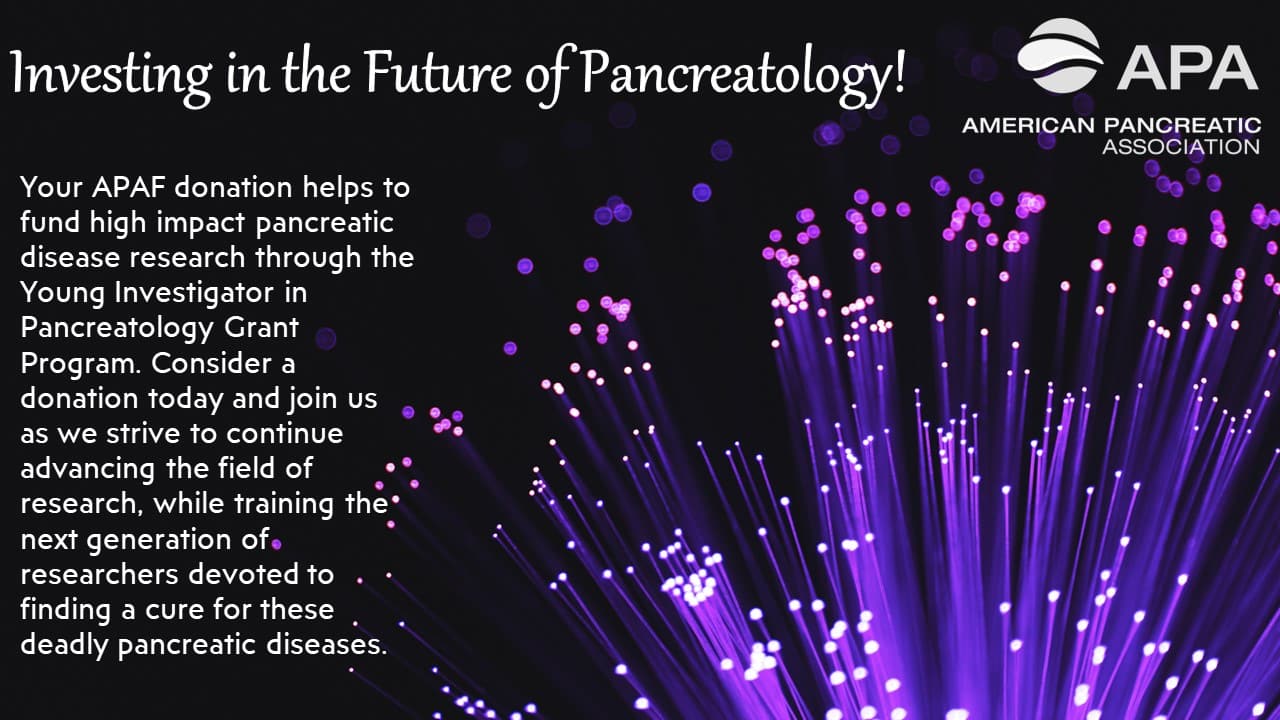 Please make checks payable to APA Foundation and mail to:
APA Foundation
3904 West 126th Street
Leawood, KS 66209
The APA is a Non-Profit Organization with a 501c3 designation. Your kind donations will be used to support research efforts towards finding cures for diseases of the pancreas. Donations are tax-deductible to the extent allowed by law.
The APA Foundation thanks the following donors for their generosity.
Donation levels are based on lifetime giving through September 30, 2023
DIAMOND | $50,000+
Barbara Kenner PhD
Betty & Paul Webster III, MD

GOLD | $20,000 – $49,999
Vay Liang & Frisca Yan Go
Agi Hirshberg
Stephen Pandol
Manju & Ashok K. Saluja
SILVER | $10,000 – $19,999
Anonymous Donor
Edward Bradley III
Suresh Chari
Fan & William Chey
William Go & Fiona Wong
T. Kurata
Joan Lowry
Janina Voss
BRONZE | $5,000 – $9,999
Christopher Forsmark
Fred Gorelick
Howard Reber
Aliye Uc
CONTRIBUTORS | Under $5,000
TheBenevityCommunityImpactFund/ Ameriprise Financial, Inc.
Christine Abbott
John Adamczuk
Don Albert
Danielle Alexander
Tom Allison
Anthony & Jayne Amiano
Dana K. Andersen MD
Dena Anderson
F.O.E.Ladies Auxiliary 1269
John Angelini
Taku Aoki
Mustafa Arain
Frank & Michele Aratari
Ignazio & Caterina Artale
Igor Astsaturov
Clarita Azout
Joe Babcock
John & Marianne Bacci
Judith & Edward Badura
Todd Balzer
Peter Banks MD
Jamie Barkin MD
Donald Barone
Jean & Robert Bechtold
Gregory Beilman
Melena Bellin MD
Anna Bergamaschi
Maureen Bigenwald
Melissa Bingham
Douglas & Lenore Bissell
Dymond Blount
Irma Blume
Dale Bockman
Kerry Boehner
Marcus Bradshaw
Randall Brand MD
Sarah Bridleman
Rosemarie Brodeur
Charles R. Brown
Melissa Brown
Kirsten Brownlie
Katelin Bryniczka
Robert Buckley
Barbara & Mitchell Burberry
Michael Burke
Walter & Blanca Calcagno
Sandy Campbell
Daniel Campisi
Jeff Canham
Diane Cannataro
Michelle Carrara
Carolyn & David Carroll
Leo & June Carwell Jr.
Catholic High School, Inc. Allentown Central
Judith Cavino
Central Baptist Church
Kaylin Chasser
Lou & Karen Chauvin
Rufu Chen PhD
Paul Chiao
Thomas Chirichella MD
Maureen & Robert Christian
Robin Cimmino
Judith Claprood
Roger Class
Sallie Clemmons
Town of Town of Colchester
Barry & Monica Colvin
Robert Combs
Maribeth Conard
Michael & Alice Confield
Darwin Conwell
Laura Cosen de Binker
David Crews
Greg Cukier
Jose Eduardo Monteiro Cunha
Jackie Cunningham
Juliet Daniel
Kanak Das
Rajinder Dawra
Eleonora DeSimone
Rita Dillon
Cheryl Donnarumma
Tom & Terry Donnarumma
Timothy Duncan
Terry Dwyer & Marcy Petrini
Cathy Ellerbrock
Family of ElMofty
Jordan Ernewein
Carlos Fernandez-del Castillo
Jory & Dave Fisher
Laura Fitzpatrick
T-45 Fleet Support Team
Arlene Fonda
Andres Fonseca
Christopher & Roberta Forsmark
Cristina Francois
Martin Freeman
Dena Fuller
Herbert Gaisano
Vincent Galluzzo
Cheryl Gariepy
Catherine Geib
Andres Gelrud
Paula Gershen
Arash Ghanaie-Sichanie
Cristian Gheorghe
Eric Gibbons
Thomas & Deborah Gill
Jordan Ginsburg
Frances & Wm Scott Slattery Go
William Go MD, PhD
Rachael Gordon
Patricia & Walter Gorski
Melvin & Diane Gowin Sr.
Amber Green
Guy Groblewski
Donna Grocott
Jason Guffey
Alexander Guimaraes
Cristina Hajdu
Amanda Harmer
Yvette Hart
Carlyle Herbert
Ginger Herrod
O. Joe Hines
Mindee Hite
Robert & Ethel Horst
Deborah Houston
Chung-Tsui Huang
Ellen Hublitz
Sohail Husain
FRSA INC.
Penny Ilberg
Darlee & Albert Inman
Shuji Isaji
Elise Janssen
Lih Jiang
Maria Jimenez Gonzalez
John Deere
Jennifer Johnsen-Nazareth
Heyward & Sandra Johnson
Jerry Johnson
Scott Johnson
Karin Jones
April Kain-Breese
Sebnem Karasu
Tim Kathmann
Jeffrey Katz
Vivek Kaul
Cheryl Kelly
Nick Kenner (Just Salad)
Jacqueline Klauberg
Mary Peyton Kragenbring
James & Sandra Kron
Richard Kruse
Paul Eduardo Lada
Sarah Lame
Luis Lara
Michael Larvin
Lazard Ltd.
Edward Lee
Jeffrey Lee
James & Diane Leitgeb
Lynn Leone
Andre & Janet Lerman
Joan Lehrhaupt
SHeila Lehrter
Fred & Cynthia Leyrer
DiPietro Library
John Lieb
Jan Liebman
Louise & Daniel Longnecker
Cristian Lopez
Roni Love
LP etc
Zipeng Lu
Allen & Linda Lutz
Robert Macknew
Navid Madani
Vahan Mahdasian
Marilyn Maneri
Karen Mann
Murli Manohar
Kenneth Marcellus
Jim Marcil Jr
Juan Carlos Marcos
Anthony & Jayne Marino
Nicolette Marks
Linda Martin
Debra Maselli
Nancy Massimino
Daisuke Masuda
Maria Mathieu
Kelsey May
Gary May
Janice McCutchan
James McKeegan
Robert & Cynthia McKeegan
Becky McKinney
Gail McLeod
Kelly M McMasters
Lacey McNally
Robert Meehan
Minerva Melchor
Antonio Mendoza Ladd
Jim & Ginny Mervilde
Anne & John Milne
Patricia & James Mistretta
Carla Monteforte
Theresa Montgomery
Morgan Stanley
James Moss
Melodie Moyer
Chris & Harry Mozian
Lorraine & Frank Mucha
Hidayatullah Munshi
Peter Muscarella
Nikki Nishimura
Sally Nix
Oliver North
Bonnie Owen
Erin Palmer
Somnath Pandey
Anjela Pandolfo
Pandol Bros. Inc.
Tony Pang
Chad Papke
Maiyon Park
Walter Park
Amy Paulin
Ken Pesso
Bret Petersen
Francine Pfitzenmaier
Lynee Phelps
Stephanie Picard
Brian Polk
Mike and Lisa Pranger
Anne Przybyla
Pauli Puolakkainen MD, PhD
Quentin Quarantino
Mary Radue
Charles & Mary McGee Randisi
Marlene Robinson
Larry and Patty Ross
Juan Rozengurt
Anil Rustgi
Janice Sardina
Sabina Sabharwal
Eduardo Saenz Corrales
Karen Sahler
Lorraine Salaman
Valerie Schabacker
Joseph Schachinger
Roxanne Scheidt
Richard & Mary Schenk
Gary & Judy Schomer
Vaneeshiia Seals
Martha Selleck
Beth Seymour
Diane Simeone
Kenneth & Judy Skinner
Terrill Smith
Lori Snapp
Deanna Sowlles
Subbaramiah Sridhar
Steve Stein
William Steinberg
Barbara Stencel
John & Christine Stephens
Troy and Susan/ Fun House Stephens
Vickie Stephens
Stanley & Judith Sternberg
Fritz Stoeckmann
Amy & Thomas Sumner
Charlotte Sunday
Donea Susong
Oasis Systems
Janet Szopo
Jean Tchervenkov
Amanda Teal
Elizabeth Thibodeaux
Marty Tierney
Alicia Tighe
JoAnn & Donald Timkey
Lawrence & Joyce Trippodo
Jenny Troxell
Brian & Arielle Tschinkel
Slavica Tudzarova-Trajkovska
Aliye Uc
Rebecca Ullrich
Ajay Upadhyay
Nakul Valsangkar
Erwin-Jan van Geenen
Peggy Varner
Laurel Vicklund
Gerard Walter
Huaizhi Wang
Ashley Warner
Andrew Warshaw MD (The Brenda & Andrew Warshaw Charitable Gift Fund)
David Washburn
Phil Webster
Debbie & Roger Wechsler
Mikey & Bonnie Weinstein
Seymour & Myrna Weinstein
Shirley & Thomas Wells
Muriel & Karl Werbovetz
Rob Westerling
Carol Whitbecker
Jennifer Whittington
Patricia Wiesner
Merit & Jean Wilkinson
Christa S. & John A. Williams
Clyde Williams
John & Alberta Williams
Tomeka Williams
Margaret Wilson
Peter & Joan Wise
Georgia & Eric Withey
Amy Wolin
Jerry Woodard
Hsing-Chien Wu
Doug Wurl
Brenda Wyatt
Dhiraj Yadav
Jesse Yodice
Carl & Patricia Zahn
Zijian Zhang
Shangyou Z
American Pancreatic Association Foundation
Young Investigator in Pancreatology Grants
The prestigious American Pancreatic Association Foundation Young Investigator in Pancreatology Grant program represents the pinnacle of funding opportunities aimed at fostering groundbreaking research in the field of pancreatology. The APAF prioritizes projects in basic and translational research specifically focused on pancreatitis or pancreatic cancer. With a successful application, recipients are granted $100,000 to directly support the costs of their independent research projects, empowering the next generation of researchers towards the ultimate goal of eradicating pancreatic diseases.
Your contribution to the APA Foundation directly fuels these impactful grants, allowing young investigators to push the boundaries of pancreatic research. Together, we can make a significant impact on the future of healthcare and bring us one step closer to a world without pancreatic disease.