Vay Liang & Frisca Go Award for Lifetime Achievement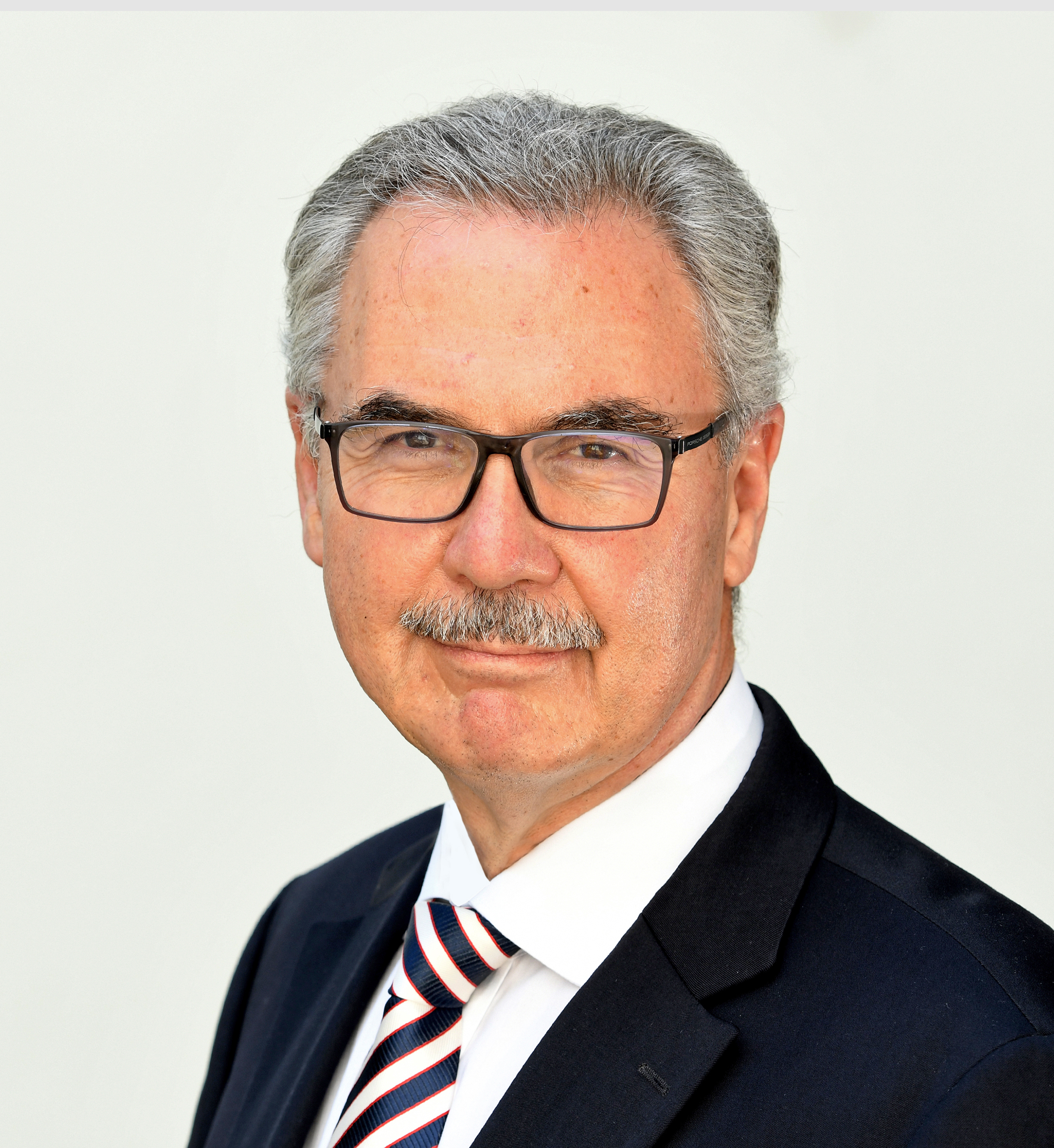 Markus M. Lerch MD, FRCP
Markus Lerch is a professor of medicine, physician-in-chief and CEO of LMU University Hospital in Munich, one of Europe's leading institutions for medical research, education and patient care.
He grew up in the Rhineland and majored in Philosophy and Art History before attending Medical School in Freiburg, Glasgow, Toronto and at the University of Massachusetts. In 1984 he completed his MD in Freiburg with experiments using isolated pancreatic lobules, his first exposure to the pancreas field that has never since ceased to fascinate him. After a Pathology Internship in Freiburg, where he was shown how to operate an electron microscope, he completed a residency in Internal Medicine at the Technical University of Aachen. Supported by the German Research Council (DFG) he worked as a post doc with Michael Steer and Ashok Saluja in Boston1, interrupted by training in cell biology with Jacopo Meldolesi in Milano, Italy, and followed by a faculty appointment at Harvard. On his return to Germany in 1992 he was board certified in Gastroenterology and obtained a second doctorate from the University of Ulm (Habiliation, D.Sc. equivalent) for work on the cell biology of pancreatitis, and was promoted to reader and clinical consultant. In 1994 he moved to the Max-Planck-Institute for Biochemistry and the lab of Axel Ullrich in Munich as a staff scientist and was later board certified in Biochemistry. From 1996 he worked as an assistant professor and consultant gastroenterologist in Homburg (Saar), and as tenured associate professor at the University of Münster (1997-2003) before he accepted a full professorship at the University of Greifswald (founded in 1456), where he served as chairman of the Department of Medicine A and Vice Dean for Research and Clinical Affairs until 2020.
The research of his group has been continuously funded, is focussed on the pathophysiology, cell biology and genetics of pancreatic disorders, remained by design translational, and has resulted in more than 760 publications (https://orcid.org/0000-0002-9643-8263). It has defined pancreatic acinar cell as the primary site of injury in pancreatitis2 and discovered (transient) blockage of pancreatic secretion3 and missorted endocytosis4 as initiating events of gallstone-induced pancreatitis, a discovery subsequently confirmed in patients5. His group was the first to identify the type of calcium release from ER stores that leads to intracellular protease activation6 and characterized the role of lysosomal enzymes in this process7. The observation that Magnesium can block trypsin activation8 has initiated two clinical trials. More recent investigations have elucidated the role of immune cells, not only in the severity9, but also the onset of pancreatitis10, particularly the role of macrophages11 and the NLRP3 inflammasome12. Translational studies using population-based and patient cohorts permitted the identification of novel genetic risk factors, specifically ABO-blood type B and FUT213, of biomarker signatures for distinguishing pancreatitis from cancer14, and established the exocrine pancreas as the most critical regulator of the intestinal microbiota compositon15.
Markus Lerch has served as secretary (2002-2007) and president (2018) of the European Pancreatic Club and president of the German Gastroenterological Society (DGVS, 2011–2017). He worked as associate editor for the journal Gut (2003-2009) and served on the editorial boards of Gastroenterology, Pancreas, Pancreatology and the Am. J. Physiol.. He was awarded the EPC Lifetime Achievement Award in 2016 and the George-Palade-Prize of the International Pancreatic Association in 2018. In 2001 he was elected an Honorary Fellow of the Glasgow Royal College of Physicians and Surgeons (FRCP), in 2015 appointed by the German President to the National Council of Science and Humanities (Wissenschaftsrat) and in 2017 elected as member to the European Academy of Science (Academia Europaea).
References
Lerch MM, Saluja AK, Dawra R, er al. The effect of chloroquine administration on two experimental models of acute pancreatitis. Gastroenterology. 1993 Jun;104(6):1768-79.
Lerch MM, Saluja AK, Dawra R, et al. Acute necrotizing pancreatitis in the opossum: earliest morphological changes involve acinar cells. Gastroenterology. 1992 Jul;103(1):205-13.
Lerch MM, Saluja AK, Rünzi M, et al. Pancreatic duct obstruction triggers acute necrotizing pancreatitis in the opossum. Gastroenterology. 1993 Mar;104(3):853-61.
Lerch MM, Saluja AK, Rünzi M, et al. Luminal endocytosis and intracellular targeting by acinar cells during early biliary pancreatitis in the opossum. J Clin Invest. 1995 May;95(5):2222-31.
Hernández CA, Lerch MM. Sphincter stenosis and gallstone migration through the biliary tract. Lancet. 1993 May 29;341(8857):1371-3.
Krüger B, Albrecht E, Lerch MM. The role of intracellular calcium signaling in premature protease activation and the onset of pancreatitis. Am J Pathol. 2000 Jul;157(1):43-50.
Wartmann T, Mayerle J, Kähne T, et al. Cathepsin L inactivates human trypsinogen, whereas cathepsin L-deletion reduces the severity of pancreatitis in mice. Gastroenterology. 2010 Feb;138(2):726-37.
Schick V, Scheiber JA, Mooren FC, et al. Effect of magnesium supplementation and depletion on the onset and course of acute experimental pancreatitis. Gut. 2014 Sep;63(9):1469-80.
Sendler M, Weiss FU, Golchert J, et al. Cathepsin B-Mediated Activation of Trypsinogen in Endocytosing Macrophages Increases Severity of Pancreatitis in Mice. Gastroenterology. 2018 Feb;154(3):704-718.e10.
Mayerle J, Schnekenburger J, Krüger B, et al. Extracellular cleavage of E-cadherin by leukocyte elastase during acute experimental pancreatitis in rats. Gastroenterology. 2005 Oct;129(4):1251-67.
Sendler M, Weiss FU, Golchert J, et al. Cathepsin B-Mediated Activation of Trypsinogen in Endocytosing Macrophages Increases Severity of Pancreatitis in Mice. Gastroenterology. 2018 Feb;154(3):704-718.e10.
Sendler M, van den Brandt C, Glaubitz J, et al. NLRP3 Inflammasome Regulates Development of Systemic Inflammatory Response and Compensatory Anti-Inflammatory Response Syndromes in Mice With Acute Pancreatitis. Gastroenterology. 2020 Jan;158(1):253-269.e14.
Weiss FU, Schurmann C, Guenther A, et al. Fucosyltransferase 2 (FUT2) non-secretor status and blood group B are associated with elevated serum lipase activity in asymptomatic subjects, and an increased risk for chronic pancreatitis: a genetic association study. Gut. 2015 Apr;64(4):646-56.
Adam MG, Beyer G, Christiansen N, et al. Identification and validation of a multivariable prediction model based on blood plasma and serum metabolomics for the distinction of chronic pancreatitis subjects from non-pancreas disease control subjects. Gut. 2021 Nov;70(11):2150-2158.
Frost F, Kacprowski T, Rühlemann M, et al. Impaired exocrine pancreatic function associates with changes in intestinal microbiota composition and diversity. Gastroenterology. 2019 Mar;156(4):1010-1015.
PAST RECIPIENTS
2020: Anna S. Gukosvskaya PhD
2019:   Suresh Chari MD
             Tooru Shimosegawa MD, PhD
2018:   Martin L. Freeman MD
2017:   Rodger A. Liddle MD
2016:   Chris E. Forsmark MD
2015:   Stephen Pandol MD
2014:   William Chey MD
             Ashok Saluja PhD
2013:   Michael Steer MD
             Masao Tanaka MD, PhD
2012:   Horst F. Kern MD
             Murray Korc MD
2011:   Andrew L. Warshaw MD
2010:   Peter A. Banks MD
2009:   Fred S. Gorelick MD
              Katsusuke Satake MD
2008:   Daniel S. Longnecker MD
2007:   Howard A. Reber MD
2006:   Tadashi Takeuchi MD, PhD
              Phillip P. Toskes
2005:   John A. Williams MD, PhD
2004:   Paul D. Webster III MD
2003:   James D. Jamieson MD, PhD
2002:   Eugene P. Dimagno MD
2001:   Vay Liang W. Go MD
Distinguished Service Award

Patter Birsic
In 1996, Birsic's sister-in-law, Joan Birsic Dawson, was diagnosed with pancreatic cancer at the age of 38. Stunned at the lack of information, and patient and caretaker support, she co-founded the National Pancreas Foundation (NPF) with Boston resident, Jane Holt, who suffers from chronic pancreatitis. Birsic continues to be an active member of the national Board of Directors, as well as the chair of the Western PA Chapter of NPF. She also sits on the Collaborative Alliance for Pancreas Education and Research CAPER) Board of Directors. Birsic regularly attends pancreas, GI and NIH conferences in the United States, as well as campaigning on Capitol Hill for increased research dollars and patient reimbursable insurance funds. The Society for Surgery of the Alimentary Tract honored Birsic in 2010 with the Public Service Award and she was recognized with her volunteerism with the 2012 Joan Birsic Dawson Service award and the 2021 NPF Volunteerism Award during the NPF Virtual Gala.
She is a member of the Women Leaders Initiative United Way program and volunteers for the National Ability Center and Catholic Charities. Birsic is a 1977 graduate from the University of Notre Dame. A resident of Park City, UT, Birsic enjoys anything outdoors- hiking, skiing, tennis, and water sports.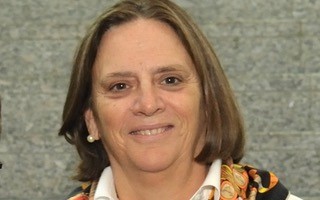 Jane M. Holt
Diagnosed with chronic pancreatitis in the nineties, Jane embraced her calling as patient advocate, partnering with Patter Birsic to launch the National Pancreas Foundation (NPF) in 1997. NPF is still the country's only nonprofit organization dedicated to improving the quality of life for patients suffering from all forms of pancreas disease – pediatric, acute, and chronic pancreatitis, along with pancreatic cancer. Since its inception, the foundation has significantly and fundamentally changed the trajectory of pancreatic research, patient education and support.
In her capacity as co-founder of the NPF and in partnership with the organizations leadership, Jane helped launched the NPF Fellows Symposium to ensure young researchers enter the field of pancreatic disease research, developed the National Pancreas Foundation Patient Registry to better understand the natural history of pancreatic disease, and founded the National Pancreas Foundations Centers of Excellence to improve the treatment and care outcomes for pancreatic patients.
A tireless advocate, Jane has received numerous awards and recognitions for her work including appointments to the Executive Board of the Digestive Disease National Coalition in 2003, named chair in 2010; the National Commission of Digestive Disease in 2006 where she served as Chair of the Pancreas working group identifying new and emerging areas of research; a four-year term with the National Institute of Diabetes and Digestive and Kidney Diseases Advisory Council in 2010 where she and Dr. Anil Rustgi organized the 2012 and 2013 Pancreas Workshops that led to the current NIDDK-NCI Consortium for the Study of Chronic Pancreatitis, Diabetes and Pancreatic Cancer; a six-year term with the National Cancer Institute Gastrointestinal Cancer Steering Committee, and acted as a consumer reviewer with the Department of Defense Peer Review Medical Research Program.
Jane currently serves as a board member and advisor for the NPF, is on the NIDDK Strategic Plan Working Group, and furthers her work with the National Cancer Institute as part of the Pancreatic Ductal Adenocarcinoma Progress Working Group.
A graduate of Skidmore College with a B.A. in Biochemistry, Jane lives in Boston, MA and Sonoma, CA with her husband Tom and her dog LouLou. In her spare time, she can be found surrounded by her four adult children, their spouses and ten grandchildren.
 PAST RECIPIENTS
2020  Vay Liang W. Go MD
2019   Barbara Kenner PhD
            Jean Alfred Morisset PhD
2018   Dana K. Andersen PhD
2017   Julie Fleshman JD, MBA
2016   Sudhir Srivastava PhD, MPH, MS
2015   Jose Serrano MD, PhD
            Mushtaq Khan DVM, PhD
2014   Stephen P. James MD
2013   Agi Hirshberg
2012   Edward D. Purich PhD
Young Investigator in Pancreatology Grant
This award opportunity is available for investigators that are in the early stages of their career. Included are senior post-doctoral researchers, instructors, research associates and assistant professors including clinical and research track faculty (MD, MD-PhD, PhD or DVM).
To enhance the training experience, we require the support and participation of a senior mentor and that the applicant have substantive new learning experiences and a mentoring/academic development committee. We require that the mentor have a substantial record of research accomplishments in a relevant field as well a history of successful mentorship. The applicant and mentor must be a member of the APA in good standing. Applications from individuals not holding U.S. citizenship or pursuing research in the United States are welcome. Funds may be used at APAF approved sites outside of the United States. Applications by individuals from diversity groups that are under-represented in medicine and biomedical research are encouraged.
Applications will be scored based on the experience and goals of the applicant, the quality of the research plan, the qualifications of the mentor, the training environment, and the relevance of the proposal to the scientific goals of the APA.  The APA will prioritize applications related to pancreatitis and the relationship between pancreatitis and pancreatic cancer, but also welcomes proposals related to all types of exocrine pancreatic disease.
2022
Linking pancreatitis, oxidative stress, and lipid metabolism in pancreatic cancer progression: a new avenue to early intervention
Laura Antonucci PhD
University of California San Diego
CRISPR-based Gene Therapy for Human Hereditary Pancreatitis
Jiale Wang MD
Mayo Clinic
Early Detection of Necrosis in Acute Pancreatitis using Magnetic  Resonance Fingerprinting
Cory Wyatt PhD
Oregon Health and Science University
Hirshberg Award
Generously supported by the Hirshberg Foundation
Congratulations 2021 Winners!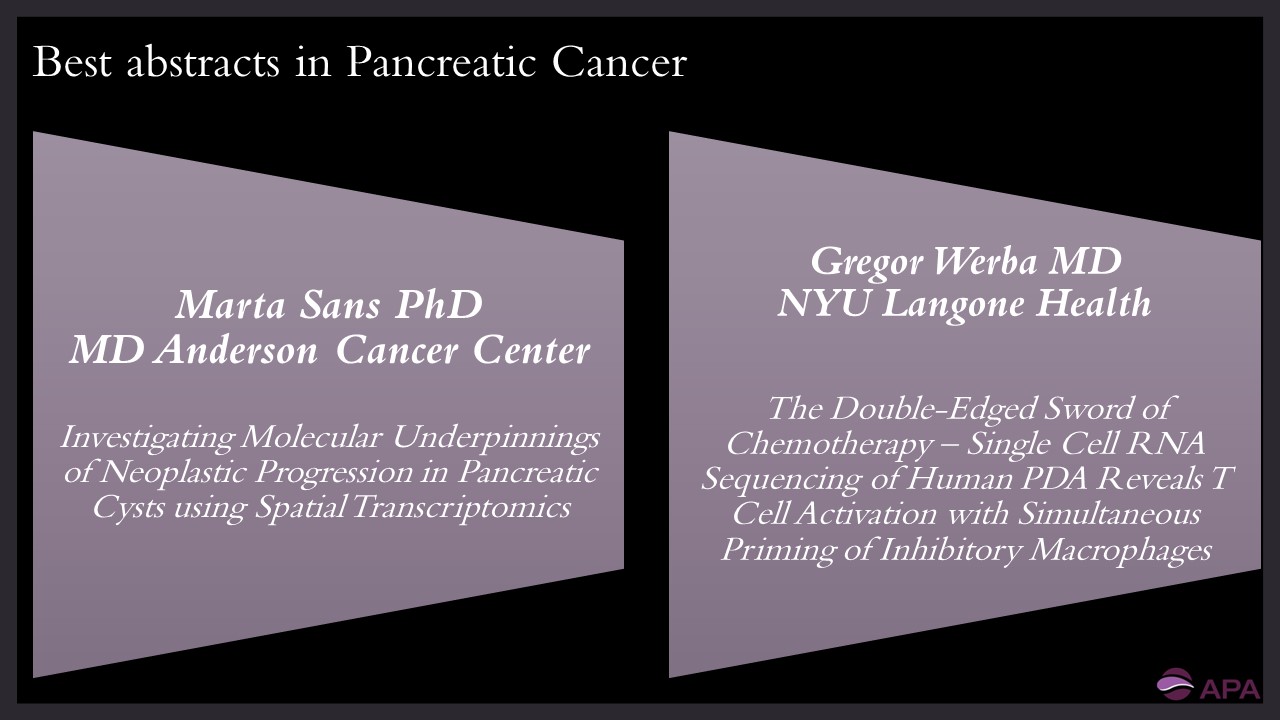 Best Abstracts in Early Detection of Pancreatic Cancer Research
Generously supported by the Kenner Family Research Fund

Congratulations 2021 winners!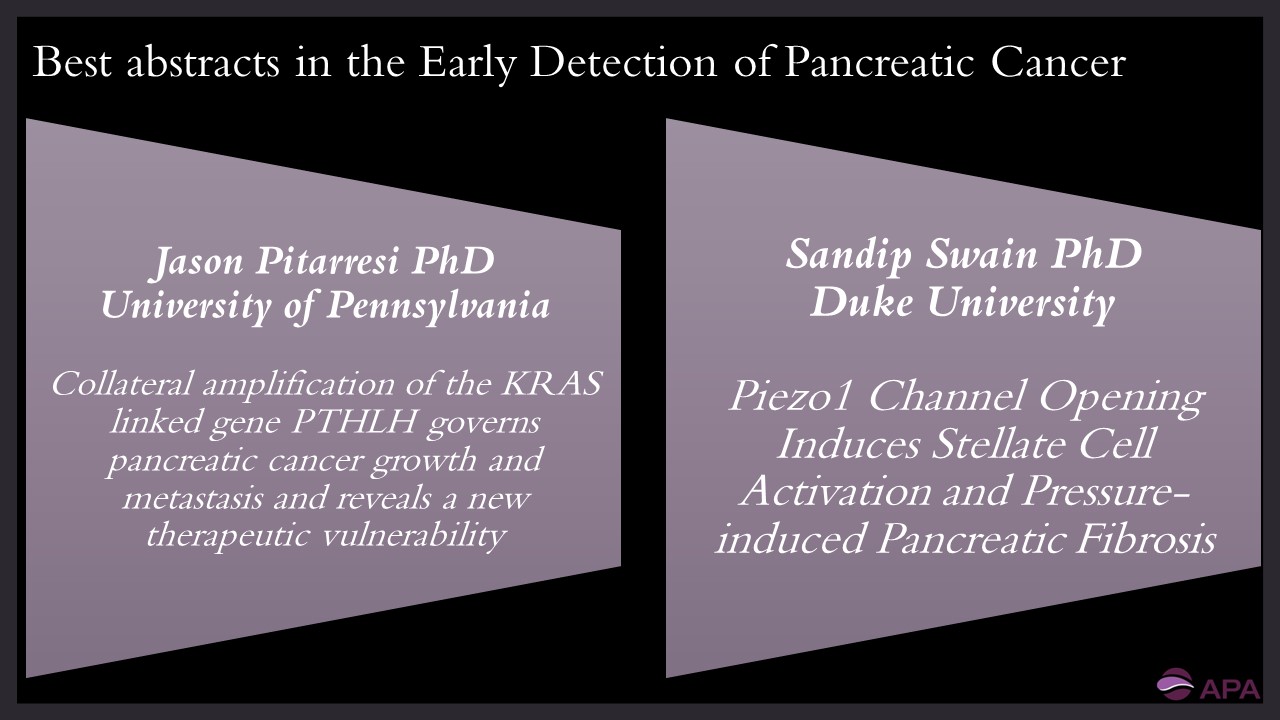 Best Abstracts in Basic and Clinical Pancreatitis Research
Generously supported by the National Pancreas Foundation

Congratulations 2021 Winners!