Vay Liang & Frisca Go Award for Lifetime Achievement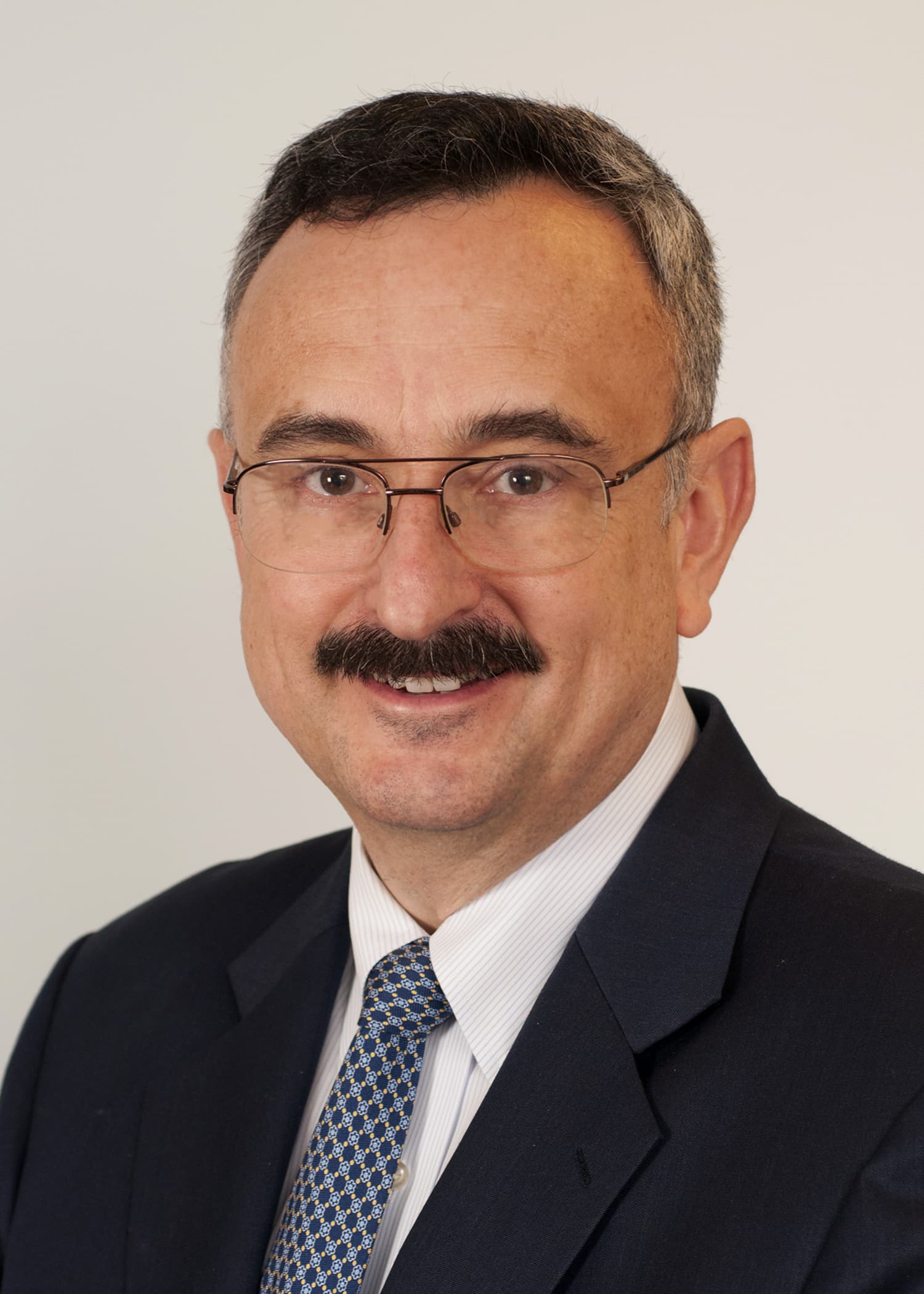 Carlos Fernández-del Castillo MD
Dr. Carlos Fernández-del Castillo grew-up in Mexico City, attended medical school at the National Autonomous University of Mexico, and then did a residency in internal medicine and surgery at the Instituto Nacional de la Nutricion. In 1989 he came to the Massachusetts General Hospital as a Research Fellow in the Pancreatic Research Laboratory of Dr. Andrew Warshaw, and in 1991 joined the staff in the Division of General/GI Surgery. He is currently the director of the Pancreas, Liver and Biliary Surgery Program, co-director of the GI Cancer Center, and the Jorge and Darlene Perez Endowed Chair in Surgery at the MGH, as well as a Professor of Surgery at Harvard Medical School. For several years he has performed the largest number of pancreatic resections in the state of Massachusetts.
His research interests were initially on the pathogenesis and treatment of acute pancreatitis. Using measurement of trypsinogen activation peptide (TAP) as a tool, and with animal models and cell experiments, he found that activation of interstitial trypsinogen was the main determinant of progression from mild to severe pancreatitis. The laboratory investigated the effects of many drugs, including nafamostat, lexipafant, and activated protein C, in the treatment of experimental pancreatitis, and did key studies that showed that non-oxidative metabolism of ethanol leads to pancreatic injury. In a clinical study published in the New England Journal of Medicine he showed that calcium administration was the main culprit of pancreatitis following cardiac surgery. This observation was followed by laboratory work showing the roles of ischemia and hypercalcemia in pancreatic injury.
Starting in the year 2000 he changed his focus to the study of cystic neoplasms of the pancreas and pancreatic cancer, and oversaw the expansion of the MGH Pancreas Biobank, that at present holds over 3500 specimens with clinical correlation. He has had a particular interest in Intraductal Papillary Mucinous Neoplasms, seeking to understand the mechanisms that lead to progression from low to high-grade lesions, the proper selection of patients requiring surgery, and the course of patients who undergo resection for IPMN, including those who are found to have invasive carcinoma. Since 2006 he has played a key role in the development of the International Association of Pancreatology guidelines for management of IPMN. Dr. Fernández-del Castillo has authored over 300 original articles and 100 book chapters and reviews, with an h-index of 107. He currently holds NIH funding for the study of biomarkers and the prevention of progression in IPMN, and was recently named an IPMN Scholar by the IPMN Global Foundation. He serves in several editorial boards, including Annals of Surgery, Annals of Surgical Oncology, and Pancreatology.
Dr. Fernandez-del Castillo has trained over 25 clinical and laboratory research fellows from Europe, Asia, Latin America, and the United States, and has been recipient of multiple teaching awards from the Massachusetts General Hospital, Harvard Medical School, and the Society of Surgery of the Alimentary Tract. He is member of many medical associations, and in 2015-2016 was president of the American Pancreatic Association.
On a personal level, he has been married for 36 years to his wife Sylvia. Together they are the proud parents of 9 children and 7 grandchildren.
PAST RECIPIENTS
2021:   Markus M. Lerch MD, FRCP
2020:   Anna S. Gukosvskaya PhD
2019:   Suresh Chari MD
             Tooru Shimosegawa MD, PhD
2018:   Martin L. Freeman MD
2017:   Rodger A. Liddle MD
2016:   Chris E. Forsmark MD
2015:   Stephen Pandol MD
2014:   William Chey MD
             Ashok Saluja PhD
2013:   Michael Steer MD
             Masao Tanaka MD, PhD
2012:   Horst F. Kern MD
             Murray Korc MD
2011:   Andrew L. Warshaw MD
2010:   Peter A. Banks MD
2009:   Fred S. Gorelick MD
              Katsusuke Satake MD
2008:   Daniel S. Longnecker MD
2007:   Howard A. Reber MD
2006:   Tadashi Takeuchi MD, PhD
              Phillip P. Toskes
2005:   John A. Williams MD, PhD
2004:   Paul D. Webster III MD
2003:   James D. Jamieson MD, PhD
2002:   Eugene P. Dimagno MD
2001:   Vay Liang W. Go MD
Distinguished Service Award

Megan Golden JD
Megan Golden is co-director of Mission: Cure, a nonprofit using outcome-based financing, impact investing and drug repurposing to cure chronic pancreatitis, a devastating disease afflicting her younger brother.
Until March 2017, Megan was Director, Pay for Success Financing at the South Carolina-based Institute for Child Success. She worked with jurisdictions across the U.S. to improve their children's health, education and well-being through large-scale expansions of effective early childhood programs. She conducted ICS's feasibility study on Pay for Success financing for the Nurse-Family Partnership in South Carolina, which resulted in a $30 million expansion that served thousands of low-income first-time mothers. This Pay for Success project was the largest in the world and the first to use Medicaid funding as part of the financing package.
She served on the advisory group for McKinsey & Company's work on "social impact bonds," and has published extensively on PFS financing and performance measurement.
From 1999-2011, Megan was Director of Planning and Government Innovation at the Vera Institute of Justice, where she worked with the government to implement innovations in criminal justice, child welfare, mental health, and eldercare. She led a major reform of New Orleans's criminal justice system and helped Chinese academics and officials pilot criminal justice reforms.
Megan also directed the Fellowship for Emerging Leaders in Public Service at the NYU Wagner Graduate School of Public Service from 2006 – 2009.
Megan practiced law from 1992-1994 as a Skadden Fellow at the Neighborhood Defender Service of Harlem. In 1994, she was awarded a White House Fellowship. Megan began her career working for New York City government as an Urban Fellow. She has a BA in political science from Brown University and a JD, magna cum laude, from NYU Law School.
 PAST RECIPIENTS
2021  Patter Birsic
           Jane Holt
2020  Vay Liang W. Go MD
2019   Barbara Kenner PhD
            Jean Alfred Morisset PhD
2018   Dana K. Andersen PhD
2017   Julie Fleshman JD, MBA
2016   Sudhir Srivastava PhD, MPH, MS
2015   Jose Serrano MD, PhD
            Mushtaq Khan DVM, PhD
2014   Stephen P. James MD
2013   Agi Hirshberg
2012   Edward D. Purich PhD
Young Investigator in Pancreatology Grant
2023 Grant Applications are currently under review. The next application cycle will open in January 2024
IAP and APAF Grant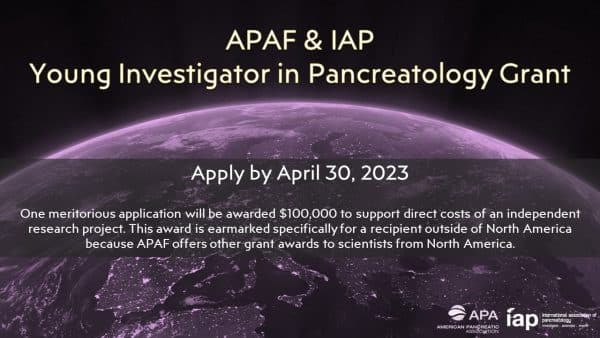 This grant program is jointly supported by the International Association of Pancreatology (IAP) and APA Foundation (APAF) to stimulate and promote research among the next generation of international scientists. The preferred focus of APAF awards is in field of basic and translational research related to either pancreatitis or pancreatic cancer.
One meritorious application will be awarded $100,000 to support direct costs of independent research project.
This award is earmarked specifically for a recipient outside of North America because APAF offers other grant awards to scientists from North America.
APAF GRANT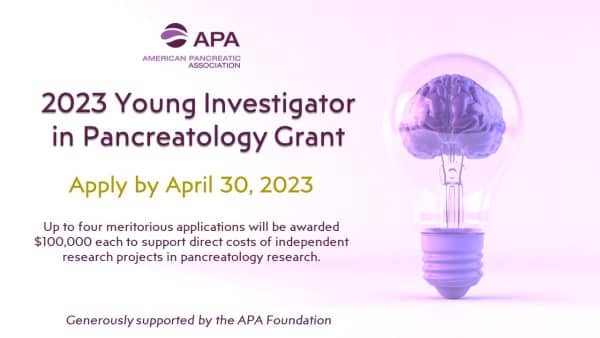 This grant program is generously supported by the American Pancreatic Association Foundation (APAF) and serves to stimulate and promote research among the next generation of scientists. The preferred focus of APAF awards is in field of basic and translational research related to either pancreatitis or to the relationship(s) of pancreatitis to pancreatic cancer. A new award focusing on disparities in pancreatology is offered this year.
Up to three meritorious applications will be awarded $100,000 each to support direct costs of independent research projects in the following categories:
APA Foundation (3 awards; one cosponsored with Pfizer; new 2023)
As part of a new priority this year, the APAF along with Pfizer is sponsoring research proposals that will study clinical and scientific disparities pancreatic studies designated the "Disparities in Pancreatology Award." This award is open to international and North American applicants. The support for this program made possible, in part, through a grant from Pfizer Inc.
MORE INFORMATION
These award opportunities are available for investigators that are in the early stages of their career. Included are senior post-doctoral researchers, instructors, research associates and assistant professors including clinical and research track faculty (MD, MD-PhD, PhD or DVM).
To enhance the training experience, we require the support and participation of a senior mentor and that the applicant have substantive new learning experiences and a mentoring/academic development committee. We require that the mentor have a substantial record of research accomplishments in a relevant field as well a history of successful mentorship. The applicant and mentor must be a member of the APA in good standing. Applications from individuals not holding U.S. citizenship or pursuing research in the United States are welcome. Funds may be used at APAF approved sites outside of the United States. Applications by individuals from diversity groups that are under-represented in medicine and biomedical research are encouraged.
Applications will be scored based on the experience and goals of the applicant, the quality of the research plan, the qualifications of the mentor, the training environment, and the relevance of the proposal to the scientific goals of the APA. The APA will prioritize applications related to pancreatitis and the relationship between pancreatitis and pancreatic cancer, but also welcomes proposals related to all types of exocrine pancreatic disease.
Application Checklist:
Applicant information
Abstract (300 words or less)
Upload the following documents formatted with 11 pt Arial font and at least .5″ margins

Applicant's personal statement (training, project and mentor selection, career goals)
Research plan organized along NIH format (Specific Aims: 1page: Research Plan; Background and Significance, Approach and Preliminary results: 3 pages)
Plan for mentoring, new learning, academic development plan (1 page)
Facilities & Environment (1 page)
References Cited (1 page)
Vertebrate Animals (if applicable, 1 page)
Protection of Human Subjects (if applicable, 1 page)
Investigator and Mentor's NIH Biosketch (maximum 5 pages each)
Mentor's support letter (1 page)
2022 Recipients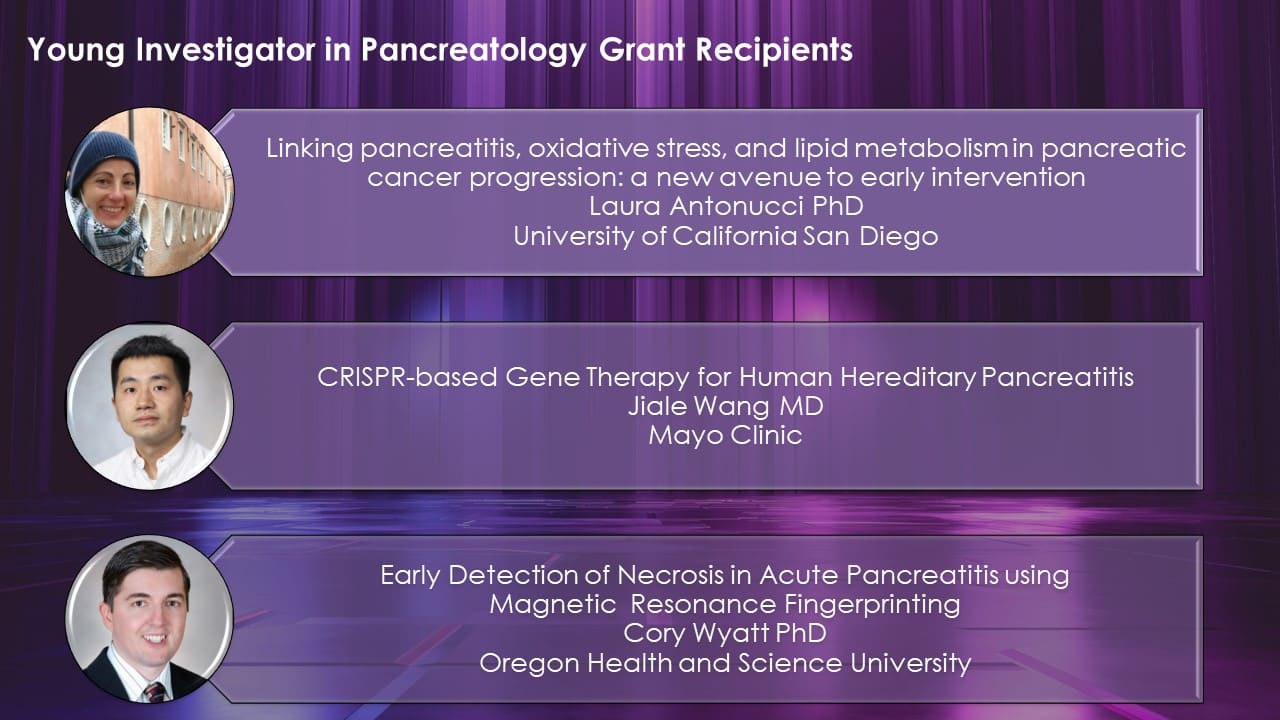 Hirshberg Award
Generously supported by the Hirshberg Foundation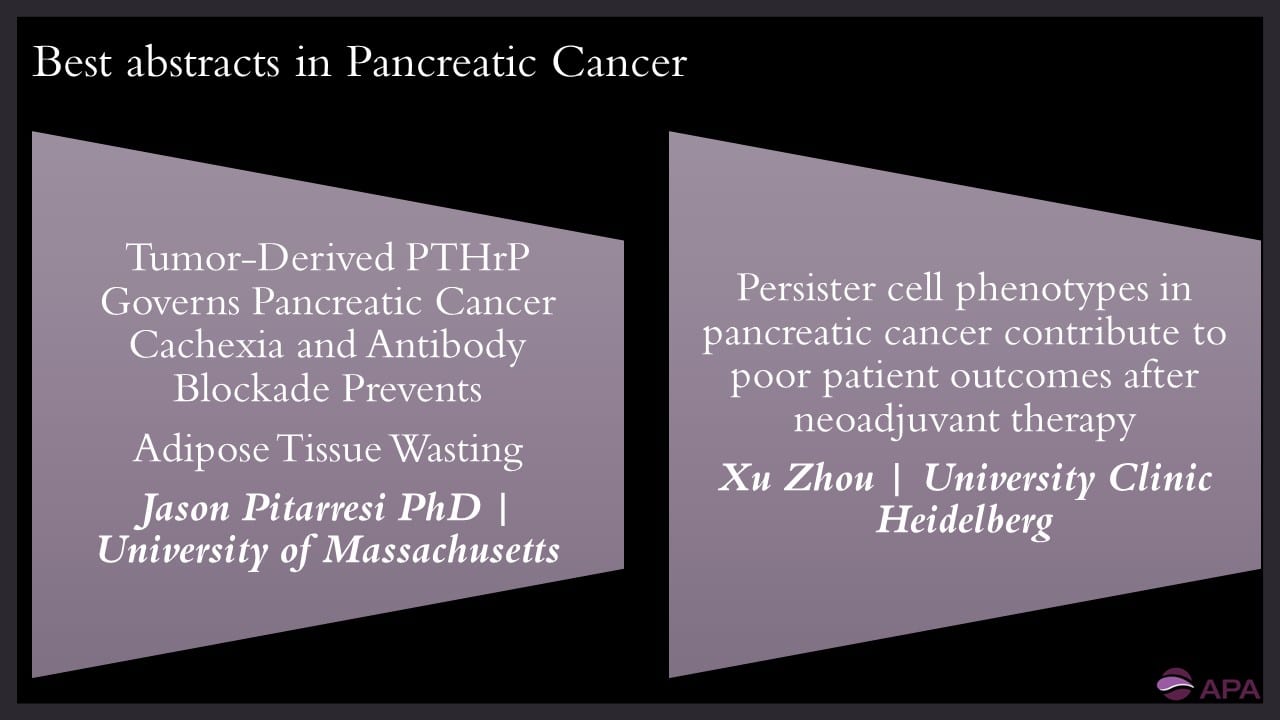 Best Abstracts in Early Detection of Pancreatic Cancer Research
Generously supported by the Kenner Family Research Fund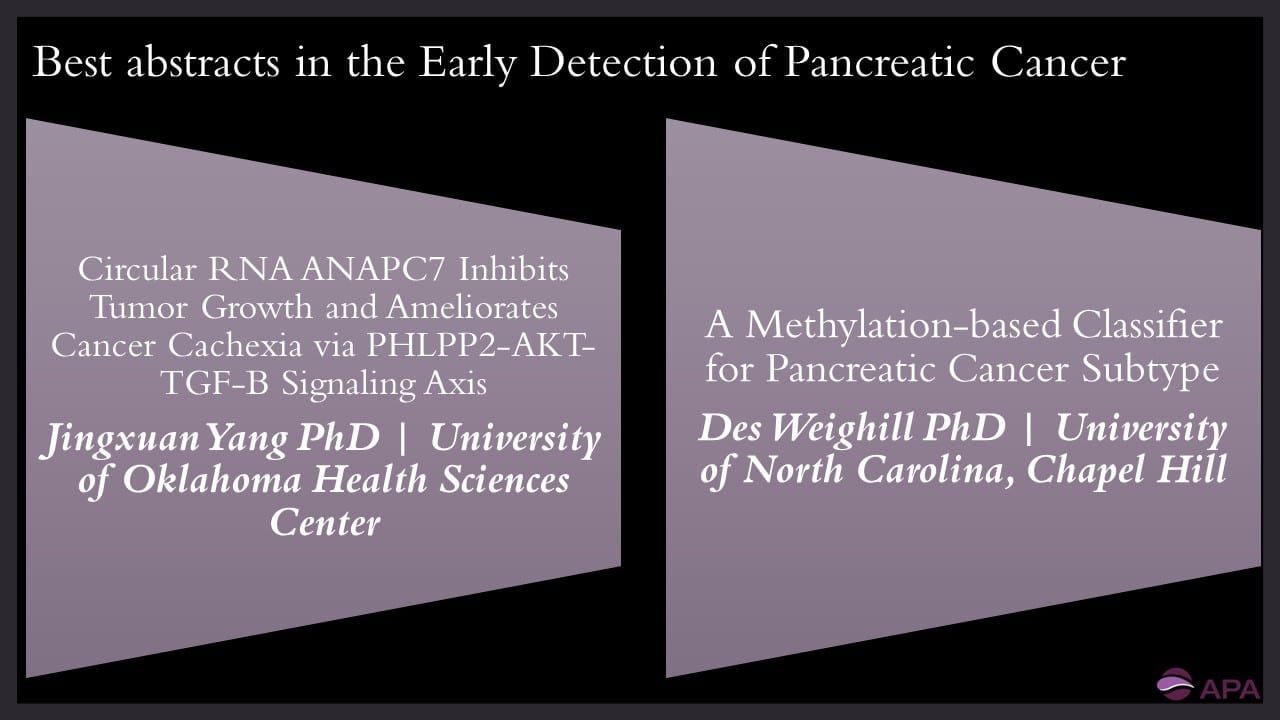 Best Abstracts in Basic and Clinical Pancreatitis Research
Generously supported by the National Pancreas Foundation