COVID-19 Update #2 | May 18, 2020
We write to you today with a critical update. While we were hopeful that Covid-19 would not hinder our ability to produce another quality annual meeting for our members, it is now clear that the entire world will be dealing with the aftermath of this pandemic well into next year.
After much consideration within the APA governing board and with the input from past leadership, we have made the decision to transition to a virtual format for our 51st annual meeting. We recognize that the spirit of collaboration fostered by an in-person meeting is difficult to replicate but we are exploring a variety of platforms that can deliver quality interactive symposia for our members.
As always, abstract submissions are the most important part of our program and we will make sure to incorporate this exciting research into this new virtual format. As usual, they will also be published in Pancreas Journal. Please submit your abstract online by July 15, 2020.
At this time, we are proposing a consolidated schedule starting with a 2-hour Hirshberg symposium on Friday, October 30th and followed by 4-hour invited speaker sessions on Saturday (10/31) and Sunday (11/1). Virtual poster sessions will be incorporated. We will send more information as we continue to work with our partners to bring you another exciting meeting. The 2019 meeting will be hard to top but we are determined to turn this pandemic into an opportunity to grow as an organization and modernize how we share research and information.
We would also like to take this opportunity to inform you that our website has moved to a new domain. Visit us at www.apapancreas.org or email us at apa@apapancreas.org. Please send along any suggestions you have to us.
Last year we made history with our largest meeting to date. We hope we can count on you to make history again! May you and your loved ones stay safe and healthy.
Best Wishes,
Anil Rustgi, APA President and the APA Governing Board
COVID-19 Update #1
Dear APA Family,
By now, the Covid-19 Pandemic is affecting all of us both in our professional and personal lives. We hope that you're adhering to CDC recommendations and doing your part to diminish the spread of this novel virus. Now more than ever, we must exercise leadership in our communities so that we may return to normalcy as soon as possible. In abundance of caution and consideration for workflow disruptions the following decisions have been made:
The Young Investigator Grant in Pancreatitis Submission Deadline will be extended to April 30th, 2020.
The APA staff is working remotely and can only answer your questions and requests via email (apa@apapancreas.org).
Some months ago we identified a need to update Practice Guidelines for Exocrine Pancreatic Insufficiency. To this end we decided to host a meeting in Miami on September 11th and appointed a committee chaired by Dr. Darwin Conwell and Dr. Chris Forsmark to design and source the material to be discussed. Given the demanding response needed to address Covid-19, we have decided to postpone this meeting to early spring of 2021 and hope to secure new dates within the next couple of months.
Miami-Dade County is still on the left of the curve when it comes to Covid-19 cases but we are optimistic that the lessons learned from other regions will be applied here and that the county (and cities within it) will be back to normal well before our 51st Annual Meeting to be held October 27-31, 2020 in Miami Beach Florida. We are actively planning the meeting and particularly the scientific program. The program committees have designed a very robust program and we hope to start inviting speakers very soon.
We will be closely monitoring this situation and will send updates on the items above as necessary. In a few months, we hope to hear that our APA family is safe and headed towards sunny South Florida with renewed resolve and invigorated to continue our work to treat and cure diseases of the pancreas.
Stay safe and healthy.
Sincerely,
Anil Rustgi, President   
Ashok Saluja, Secretary-Treasurer

Make plans to join us in November 2021 at the Eden Roc, Miami Beach, FL
CALL FOR ABSTRACTS DEADLINE:  Saturday, August 1, 2020, 11:59PM EDT
APA welcomes abstract submissions for the APA 2020 Virtual Meeting! Abstracts will be reviewed, graded, highlighted, and published in Pancreas Journal. 
Click here for Abstract Formatting Instructions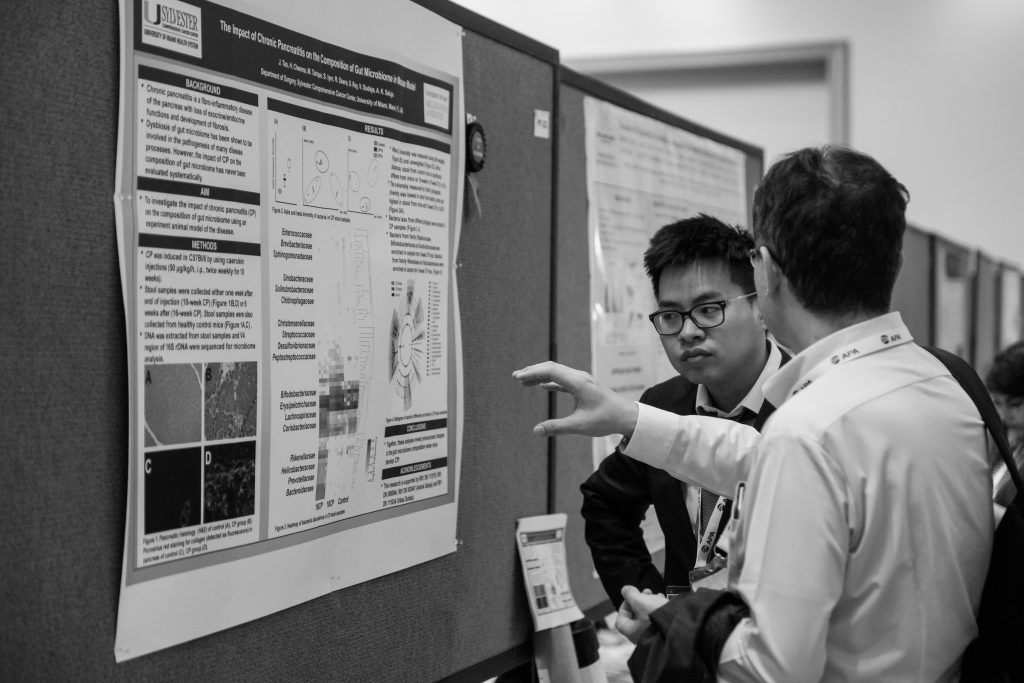 Young Investigator Travel Grant
Due to the cancellation of the in person APA 2020 Annual Meeting, there will not be Young Investigator Travel Grants being offered.
We look forward to 2021 when we can hopefully gather in person!
Every year, we welcome companies and organizations who share our mission to exhibit and/or support our meeting in a variety of ways.
Join our virtual exhibit hall and reach our attendees in new ways. 
Contact us for more details apa@apapancreas.org
Registration for the APA 2020 Virtual Meeting to be held October 30 – November 1, 2020 will open soon!
Past APA Conferences
Click on a button below to access programs from our previous APA meetings.